Frank joined The Times in 1962 as an editorial cartoonist. Over the next decade he produced weekly cartoons examining serious issues of the day - social causes, medical issues, senior concerns and politics - as well as a tongue-in-cheek look at the week's news.

Some of his work received national recognition by being reprinted in other papers: most notably, his cartoon titled "Profiles in Sadness" capturing the international mood following the Kennedy assassination. His cartoons have also appeared in exhibits at the National Archives in Washington, DC and in three presidential libraries.

The creativity of Frank's cartoons was highlighted by The Times in a 1962 ad run in Editor and Publisher promoting his "brilliant cartoon style."

Frank was part of a small - though highly influential - group of editorial cartoonists that included artists such as Bill Mauldin (St. Louis Post Dispatch), Pat Oliphant (Denver Post) and Herbert Block (Washington Post), a.k.a "Herblock." Their job is not an easy one - to reduce an issue to an image that the reader could easily understand. As summarized in the book Drawn and Quartered - The History of American Political Cartoons by Stephen Hess and Sandy Northrop "A cartoon can represent ideas a photograph can't and in a more compact format than words."

In addition to involving the reader in the political process, editorial cartoons also play an important role in the classroom. As noted on The (Everett) Dirksen Congressional Center Web site, cartoons "teach students to identify issues, analyze symbols, acknowledge the need for background knowledge, recognize stereotypes and caricatures, think critically, and appreciate the role of irony and humor."

In May 1968, Frank penned a poem for Editor and Publisher summarizing the challenges faced by the editorial cartoonist:

Cartoonist's Lament

Where, oh where, is the local cartoon?
Far, far away, and not coming back soon.
It costs so little to buy the best
Mauldin, Herblock and all the rest.
Besides, the local cartoon means taking stands
And stepping on toes
And making decisions cause an editor woes.
It's such a comfort to use a mat
And keep your own thoughts under your hat.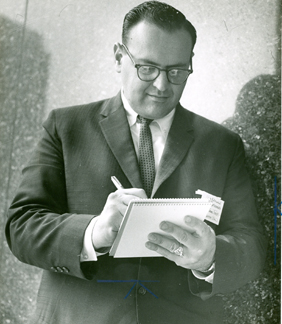 Frank Tyger, sketchbook in hand
(c. early 1960s)
"Give it to me straight Doc.
Will my bank account pull through"

(An early 1960s cartoon on the concerns
of seniors - as relevant today
as it was then!)

1962 Trenton Times ad in
Editor and Publisher magazine promoting
Frank's "brilliant cartoon style"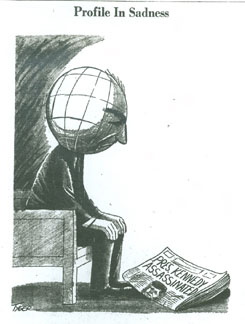 "Profile in Sadness"
(Frank's editorial drawing
at the time of JFK's assassination
was reprinted nationally)


About Frank's Editorial Cartoons