For most of his career at The Times of Trenton, Frank Tyger was the "man" behind the newspaper's annual Holiday Appeal. As the paper's Promotion Manager Frank was responsible for authoring articles that appeared in The Times promoting the Appeal, and acknowledging contributions from readers.

In recognition of Frank's dedication to the Holiday Appeal - and his overall concern for helping nonprofit organizations in Central New Jersey - The Times of Trenton has announced that the 2011 Holiday Appeal is in memory of Frank who passed away earlier this year. The Salvation Army of Mercer County has been designated to receive the contributions from this year's campaign to support their work in helping the community.

As a nationally published editorial cartoonist, Frank also used his artistic skills to prepare artwork to appear in The Times to promote the Holiday Appeal. Following is an illustration Frank prepared for an early 1960s holiday campaign.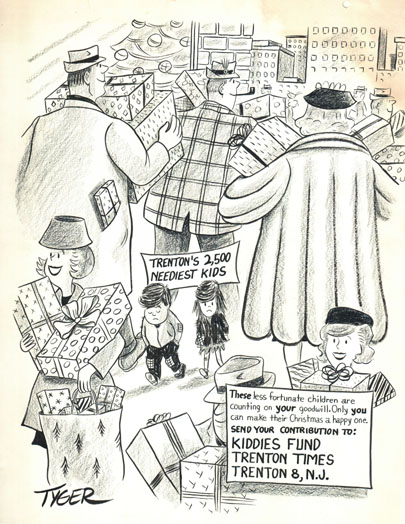 "Lost in the crowd?"
Shown below is the advertisement appearing in The Times of Trenton to promote
the 2011 Holiday Appeal in Memory of Frank Tyger,
including instructions on how contributions can be made to the campaign