The Artist At Work
One of Frank's editorial cartoons that received national exposure was titled "Social Dynamite," focusing on the plight of unemployed youth in the United States. The cartoon first appeared in The Times on November 26, 1962.
The cartoon was reprinted by other organizations:
New Jersey State Employment Service to promote their job placement services
Democratic National Committee following JFK's 1963 State of the Union Address
US Army Recruiting Poster with the slogan "Be trained in a career of your choice"
While many readers of The Times saw the finished cartoon, shown below are two preliminary sketches Frank did as he was developing the message he wanted to convey when the cartoon was published.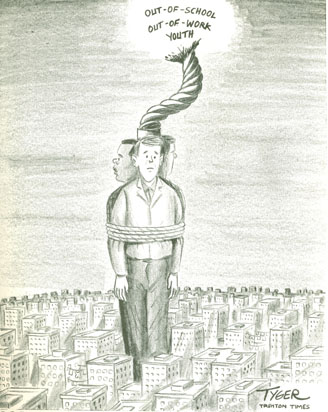 "Social Dynamite" - The Finished Cartoon